By Ann Williams
In the vast and ever-evolving landscape of contemporary art, certain artists stand out of their craft. Mitchell Johnson, an artist based in California, is undeniably one of them. His remarkable journey through the realms of color and shape-driven paintings has not only solidified his reputation in the art world but has also earned him a place alongside iconic artists like Georgia O'Keeffe, Milton Avery, and Richard Diebenkorn.
Born in 1964, Johnson's artistic odyssey has taken him from the bustling streets of New York City to the vibrant art scene of California. His artistic awakening began at Parsons School of Design in New York, where he studied under the guidance of renowned artists such as Jane Freilicher, Robert De Niro, Sr., and Larry Rivers. It was here that he imbibed their reverence for art history and their unwavering commitment to drawing and painting from life as the foundation of artistic expression.
One of the defining features of Johnson's work is his ability to seamlessly traverse the realms of abstraction and representation. As noted art historian Peter Selz once observed, Johnson creates "realist paintings that are basically abstract paintings and abstract paintings that are figurative." This fluidity in style and approach sets Johnson apart as a versatile and dynamic artist.
The early 1990s marked a significant turning point in Johnson's career. He made the bold decision to leave the bustling art scene of New York for the golden shores of California. His move was motivated by a desire to work alongside the esteemed artist Sam Francis. It was in California that Johnson's work began to flourish, as he embarked on a series of ambitious painting expeditions to Italy, France, and New Mexico.
Armed with rolls of canvas packed in a golf bag, Johnson ventured into unfamiliar landscapes, often traversing them on foot. These journeys were not about capturing the essence of a specific place, but rather about delving deeper into the intricate interplay of land and sky, seeking to unravel the complex geometry of the world around him. Each expedition brought moments of revelation, leading Johnson towards a more personal and artistic direction.
In the early 2000s, Johnson's work underwent a noticeable transformation. He shifted away from merely reporting on the external world and began to explore the enigmatic facets of appearances. A pivotal moment occurred in 2005 when he stumbled upon an exhibit featuring the works of Josef Albers and Giorgio Morandi. This encounter left an indelible mark on Johnson's artistic sensibilities.
As Brenda Danilowitz from the Albers Foundation aptly described, Johnson's admiration for Albers and Morandi found expression in his work. The juxtaposition of their paintings in Johnson's 2014 monograph, "Color as Content," eloquently showcased the influence of these great artists. Albers demonstrated great skill in color, space, and form, while Morandi contributed his expertise in form, space, and color. This silent dialogue between the two artists resonated in Johnson's work, resulting in meticulously arranged color and form playing off each other in ways that were both striking and luminous.
Throughout the 2000s, Johnson expanded his horizons with regular painting excursions to New England and Asia. Notably, he developed a special affinity for Truro, Massachusetts, which became a recurring subject in his work. His paintings found homes in galleries and museums across the United States, from New York to Los Angeles, Santa Fe to San Francisco, and many places in between.
Beyond his artistic endeavors, Johnson has generously shared his knowledge and passion with the world. He has served as a visiting artist at esteemed institutions such as The American Academy in Rome, Borgo Finocchieto, The Josef and Anni Albers Foundation, and Castle Hill in Truro, MA. His educational journey has been equally diverse, encompassing studies at Staten Island Academy, Randolph-Macon College, The Washington Studio School, The Santa Fe Institute of Fine Arts, and The New York Studio School.
Notably, Johnson's impact on the art world extends far beyond the canvas. His works have found their way onto the silver screen, making appearances in notable films, including Nancy Meyers' projects like "The Holiday" (2006), "Crazy Stupid Love" (2011), and "It's Complicated" (2009).
As we look ahead to the future, Mitchell Johnson continues to push the boundaries of contemporary art. His upcoming exhibition at the Truro Center for the Arts at Castle Hill promises to be a captivating exploration of color and shape. Here are four new paintings that will be featured in this exciting exhibition: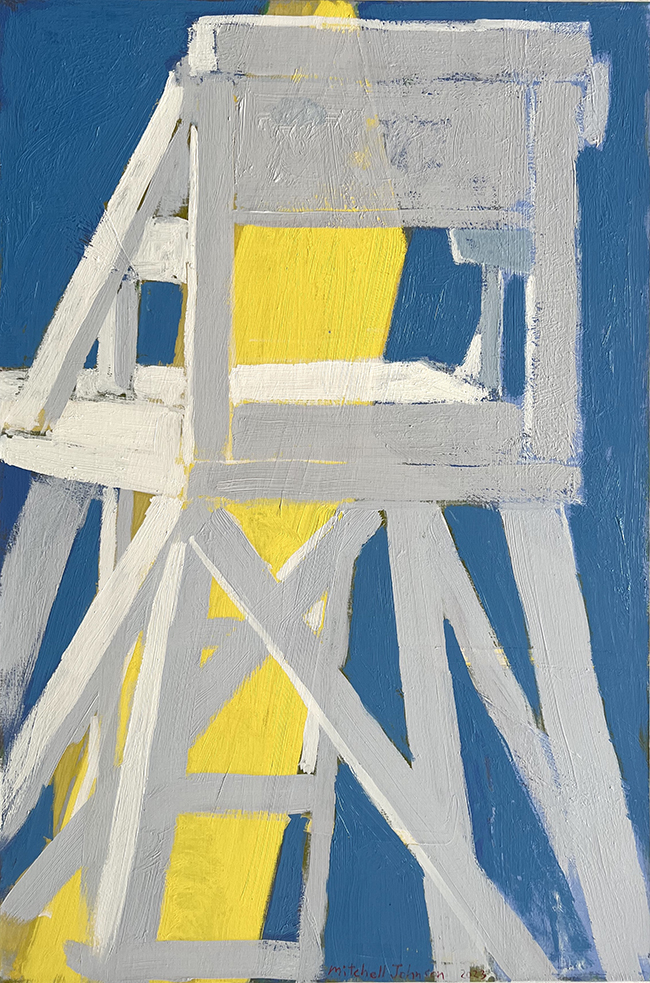 Title: "Race POint Chair Yellow", Mitchell Johnson, oil/canvas, 36 X 24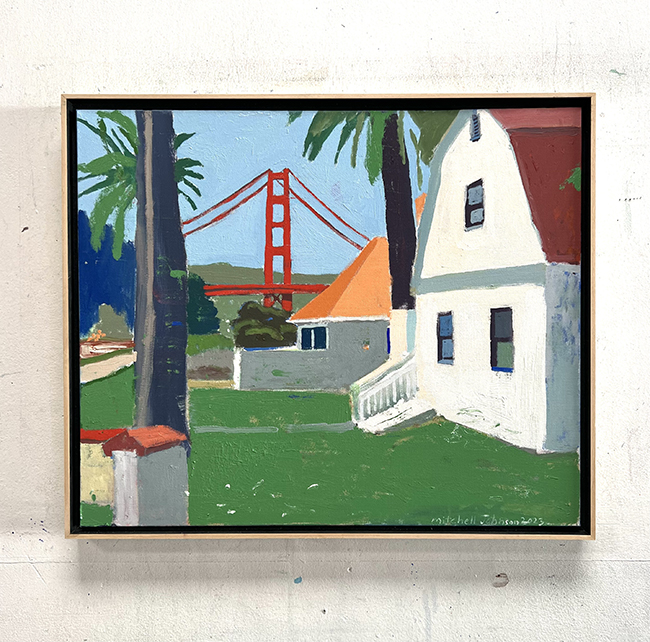 Title: Mitchell Johnson "Presidio #9 (James), Mitchell Johnson, oil/canvas, 20 X 24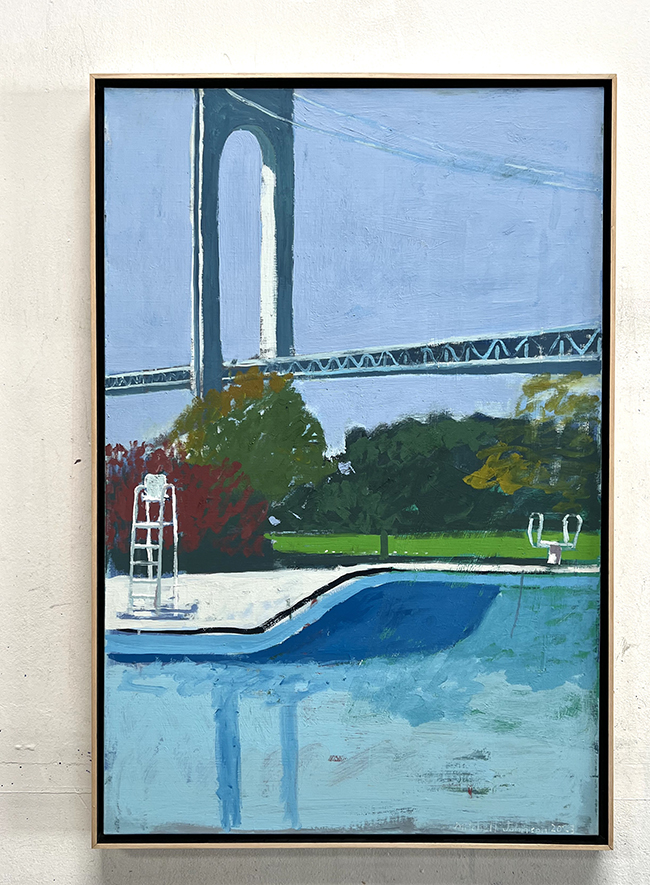 Title:Brooklyn, Mitchell Johnson, oil/canvas, 36 X 24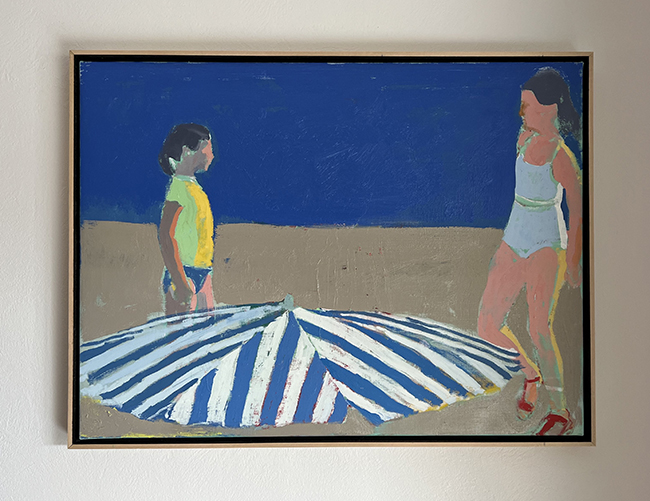 Title: Plage Mala, Mitchell Johnson, oil/canvas, 21 X 28
In a world where the boundaries of artistic expression are constantly challenged and redefined, Mitchell Johnson stands as a beacon of creativity and innovation. His journey from New York to California, his encounters with the works of Albers and Morandi, and his unwavering commitment to the exploration of color and shape have cemented his place as a true luminary in the contemporary art scene. As we eagerly anticipate his upcoming exhibition, it's clear that Mitchell Johnson's artistic journey is far from over, and the world of art is all the richer for it.
All images copyright 2023 Mitchell Johnson. Used by permission.