Ann Klefstad, an accomplished sculptor and artist hailing from Duluth, Minnesota, has spent two decades living by the serene shores of Lake Superior. Her deep connection to the natural world and the unique environment of Duluth has been a driving force behind her body of work, which encompasses sculptures and artistic endeavors that harmonize with her surroundings. Klefstad's artistic journey has been marked by a versatile approach, drawing inspiration from a diverse array of influences, including the works of Rodin, Zen ink painting, Fluxus, and even her daily forest walks. In this article, we'll delve into the life and work of Ann Klefstad, exploring her artistic philosophy and some of her notable creations.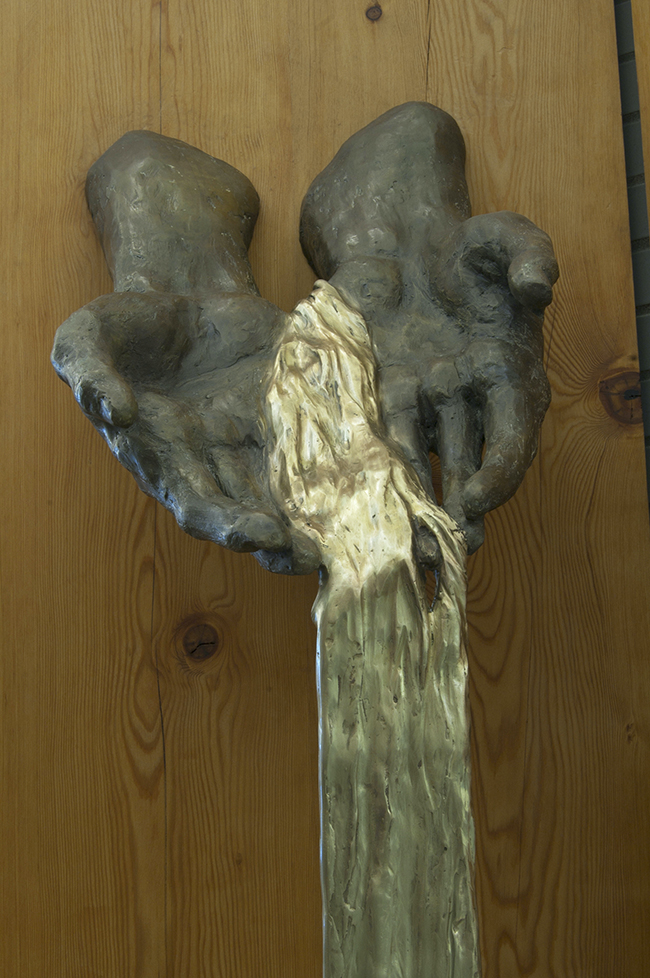 Klefstad's artistic career is characterized by her refusal to adhere to a single signature style. Instead, she chooses media and techniques that align with her aesthetic and environmental sensibilities. She believes in creating art that effectively communicates the beauty of the natural world while also addressing the discomfort that arises when the human-made world clashes with it.
One of her distinctive creations is her "forest environments," which she paints using tar on plywood. These works are inspired by the very forest she encounters on her daily walks. The choice of materials is symbolic, as plywood represents the flesh of trees, transformed into modular sheets, making efficient use of smaller timber from second-growth forests. The tar she uses, asphaltum, is a natural substance that harks back millions of years—a fossilized relic of ancient forests. However, it also symbolizes the petro-economy, which is contributing to climate change and impacting the boreal forest where she resides.
Klefstad's art takes a dual nature, much like the materials she employs. Her work is a delicate balance between embracing the natural world and confronting the consequences of human actions on the environment. In her "Pack and Herd" series, she sculpts animals, such as deer and wolves, using Cor-ten steel. These animals, rendered in metal, possess machinelike qualities while maintaining a lifelike appearance in terms of size and gesture. The process of oxidation, or chemical burning, gives them unique and captivating colors, further emphasizing the intricate relationship between nature and industry.
"The Pack is necessary to the Herd, the Herd is necessary to the Pack," Klefstad explains. Her work illustrates the interconnectedness of natural systems, operating independently of human categories. She believes that these systems can teach us valuable lessons about the world, emphasizing its vastness and age compared to our existence, and the choices we make as we set ourselves apart from the natural flows of nature. Klefstad's art challenges us to see the complexity of the world around us.
Another striking facet of Klefstad's art is her "Walk on Water" series. She takes photographs of water surfaces on Lake Superior during her solitary voyages in a kayak or a small sailboat. These photographs aim to capture the essence of water in its raw, unaltered state, shedding conventional scenic representations that often oversimplify its beauty. To present these images, she prints them on galvanized steel, a common building material, and allows the metal to bend and shape itself on the wall. This unique presentation unites two substances that are typically harnessed for distinct human purposes, revealing their shared characteristics and mutual influence.
Klefstad's artistic aspirations are deeply rooted in her love for the boreal environment along Lake Superior. She is determined to create art that elicits both sensory and intellectual responses, prompting contemplation about the natural world, our relationship with it, and the impact of our actions. Her goal is not to preach or romanticize but to provoke critical thinking about our interaction with the environment. She seeks to unravel the essence of the place she calls home, stripping away nostalgia, idealization, and kitsch in favor of revealing the true nature of the environment and our role in it.
One of Klefstad's works, "Healing," is situated at Lake Superior College in the health sciences area. This creation combines bronze, varied patinas, and Douglas fir to form an artwork that reflects her dedication to the connection between humanity and nature. While this article can only provide a glimpse of the piece, you can explore the complete work on her website.
Ann Klefstad's artistic journey is a testament to her unwavering commitment to the natural world and her ability to convey its beauty and complexities through her diverse and thought-provoking art. Her work serves as a call to action, encouraging us to reflect on our relationship with the environment and consider the choices we make as we navigate the ever-evolving world around us.