Diverging from the path of many traditional artists, Nez Lover not only creates art but also shares her creations on her YouTube channel. In this article, we will explore Nez Lover's unique artistic approach and her creative journey.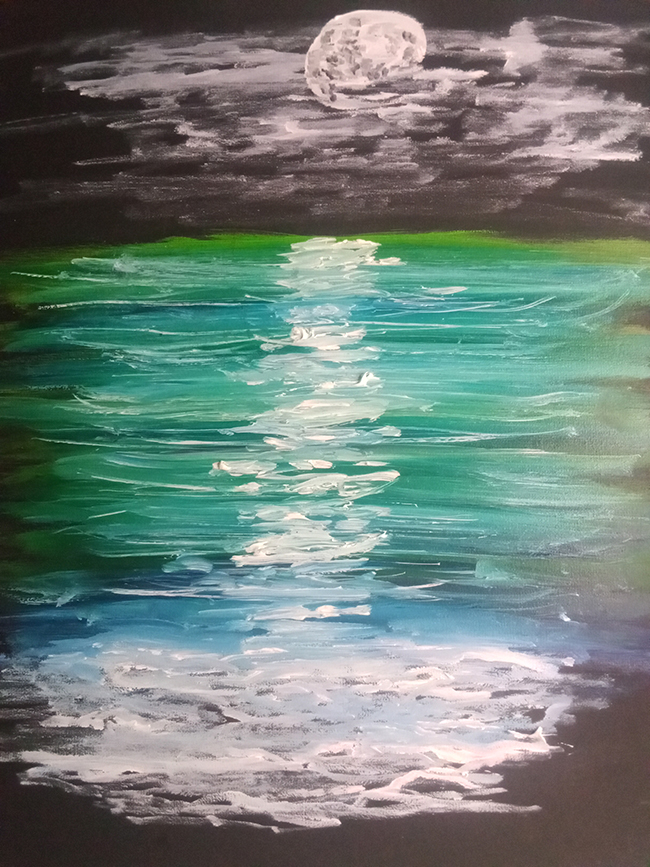 Nez Lover's artistry takes many forms, but one piece that stands out is "Black Sand Beach in the Moonlight." This exquisite work of art, created using oils and tempera on a 12″ x 12″ canvas board, was brought to life in front of a live audience during one of her YouTube art streams on her channel, "Nez Lover." The connection between the artist and her audience is a vital element of her creative process. She goes live on her channel every Friday and Saturday night at 10 PM EST, providing her viewers with an opportunity to witness the birth of her artistic creations.
The energy and engagement from her audience are the catalysts that drive her artistic vision. Nez Lover's art streams not only showcase her artistic skill but also create a sense of community and shared experience. This connection between artist and audience enhances the art-making process, making it a collaborative and deeply enriching journey for both Nez Lover and her viewers.
"Black Sand Beach in the Moonlight" was inspired by a friend's visit to a black sand beach in Hawaii. The artist's connection to nature plays a fundamental role in her creative endeavors. Nez Lover's art often revolves around the beauty of the natural world, encompassing both flora and fauna. Her love for the sea, fueled by her deep yearning for it, compels her to paint it, capturing its essence and the emotions it evokes.
Beyond her emotional connection to nature, Nez Lover is classically trained, having undergone art foundation courses multiple times throughout her journey. This strong foundation in art, combined with her innate artistic abilities, enables her to bring out the finest details and emotions in her works. While she specializes in portraiture, she harbors a deep and enduring desire to paint nature, a testament to her versatility as an artist.
The heart of her artistic expression lies in portraiture. Her ability to capture the nuances of the human face and the stories hidden behind each set of eyes is truly remarkable. Portraits, with their intricate details and emotions, provide a unique and captivating view into the souls of the individuals she portrays. Nez Lover's portraits transcend the boundaries of time and space, giving her subjects an eternal presence on her canvas.
In addition to her exploration of portraiture, Nez Lover's desire to paint nature showcases her commitment to capturing the beauty of the natural world. The ever-changing hues of the sea, the delicate petals of a flower, or the intricate details of a butterfly's wings are all subjects she approaches with awe and reverence. Her deep connection to nature, combined with her artistic skills, allows her to transform her observations into mesmerizing works of art.
What sets Nez Lover apart is her willingness to share her art with the world. She does not merely create art for personal satisfaction; she offers her works for sale and welcomes commissions. Her art is a gift to those who appreciate its beauty and the emotions it conveys. To inquire about purchasing her work or commissioning a unique piece of art, interested individuals can reach out to Nez Lover via email at marisalou71@gmail.com.
In an era of digital art and instant gratification, Nez Lover's dedication to live art streams is both unique and refreshing. Her willingness to share her creative process with her audience, inviting them to be part of the artistic journey, is a testament to her commitment to her craft and her connection with her viewers. Her live streams not only provide an opportunity to observe an artist at work but also create a sense of community, where individuals from different corners of the world can come together to celebrate art.
Nez Lover's art is an invitation to step into the world of emotion and beauty. Whether through her captivating portraiture or her enchanting depictions of nature, she invites us to explore the depth of human experience and the wonders of the natural world. Her art streams on YouTube are not just about the end product; they are an opportunity to witness the artist's passion, dedication, and the energy of a live audience infusing life into her creations.
In conclusion, Nez Lover is an artist who bridges the gap between classical training and natural artistic talent. Her ability to create breathtaking portraits and stunning depictions of nature speaks to the depth of her creativity. Her art streams on YouTube open a window into her creative process, allowing her audience to share in the beauty and emotion she brings to life on canvas. Nez Lover's art is a testament to the power of human expression and the connection between artist and audience. For those who appreciate the beauty of the natural world and the depth of human emotion, Nez Lover's work is a treasure waiting to be explored and cherished.