Anthony Blazevic, a Canadian artist, is the creative mind behind "A. Blaze Fine Art. At the heart of Blazevic's artistic philosophy lies a commitment to creating a visual spectacle that captivates and challenges the viewer. He describes his work as a "mixed media surrealistic visual display of bold symbolism with a raw demeanor." This description hints at the depth of thought and emotion that infuses each piece he creates.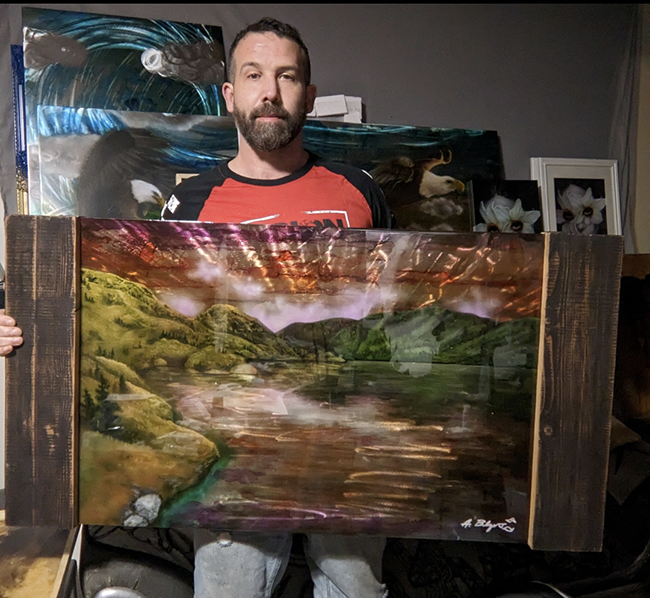 What sets Blazevic apart is his innovative approach to art-making. He employs unique techniques and mixed media to craft abstract surrealistic backgrounds, such as patina finishes on canvas and holographic effects seamlessly manipulated into metal. These backgrounds serve as the stage upon which his imaginative creations unfold.
Blazevic's artistic subjects are as diverse as they are captivating. His portfolio includes surreal female portraits that exude mystery, skulls that evoke contemplation of life and death, and floral compositions that celebrate nature's beauty. But his creativity doesn't stop there. Blazevic is known for morphing stylized wildlife and multiple organic subjects into single, mesmerizing creations.
One distinct characteristic of his art is the presence of hidden objects and messages, adding an element of intrigue for the observant viewer. Additionally, a touch of humor occasionally shines through, reminding us of the artist's connection to sub-pop culture's playful spirit.
Blazevic's artistic journey traces its roots to his upbringing in a small town near Halifax, Nova Scotia. Surrounded by the rugged beauty of ocean playgrounds, evergreen landscapes, and enchanting winter wonderlands, his early experiences left an indelible mark on his creative spirit. Yet, it was the concrete playgrounds of skateboarding and the sounds of underground hip-hop and punk rock that truly ignited his artistic passion.
In these subcultures, Blazevic found inspiration in the icons who were labeled as outcasts, rebels, and anarchists. These heroes expressed their identities through art, whether through skateboard graphics, snowboard designs, or album covers. This fusion of art and identity deeply fascinated him, laying the foundation for his artistic exploration.
As a young adult, Blazevic's interests expanded into motorcycle and hot rod culture, another subculture with similar roots of rebellion and self-expression. His passion for illustrating skateboard and snowboard graphics naturally evolved into the world of airbrush and custom paint, allowing him to make statements through his creations, much like his childhood heroes.
It was only a matter of time before Blazevic brought his custom culture-influenced creations to canvas, cementing his reputation as an artist with a unique vision. His work quickly gained recognition throughout western Canada and Las Vegas, culminating in the debut of his inaugural series, "The Poker Straight Collection," during the 2014 World Series of Poker event.
Today, Anthony Blazevic has come full circle, returning to the East Coast where his artistic journey began. As he continues to paint, he embarks on a new chapter in his fine art career. We are so glad to have a chance to have an interview with him.
Can you share some insight into your creative process and where you draw inspiration for your work? Are there specific themes, experiences, or sources that consistently influence your art?My inspiration is driven by creating something that doesn't exist in the real world and making it look believable. Or choosing a subject that does exist in the real world and making it look unbelievable. Most of my creative process I use came from my days in the body shop as an automotive airbrush artist. I use unique techniques and mixed media to achieve abstract surrealistic backgrounds: patina finishes on canvas, masking techniques, pouring mediums, chemical reactions, and holographic effects manipulated into metal using power tools. I often use these manipulations to include the presence of wind, underwater currents, or light rays, just to name a few. The foreground subjects are rendered with an evolved style of realism studies combined with my imagination – drawn to fantasy and the unknown.
How has your artistic style and technique evolved over the years? Are there any pivotal moments or influences that have contributed to this?I started my Surreal Landscapes & Wildlife Collection in 2020 after moving back to Atlantic Canada after 25 years on the West Coast. After experimenting with sheet metal as my canvas over the years, I was determined to fine-tune certain techniques to achieve a one-of-a-kind effect. Introducing alcohol inks and epoxy resin was a real game-changer for me. Alcohol inks for their transparency. They allow the natural sheen of the metal to shine through. Top-coating with high-gloss epoxy resin enhances any 3D illusions, complements the metal, and provides an indestructible finish. My older work leans heavily towards bold, saturated color schemes.
Many artists aim to convey a message or provoke emotions through their work. What messages or emotions do you hope to convey to your audience through your art, and what impact do you aspire to achieve?I try to relay a positive message to my audience. If I can take them to, or back to a place in their memory – mission accomplished. Something they can relate to. I keep it pretty simple in general and let a bit of humor shine through from time to time. I avoid most political issues. It's just not me.
Every artist faces challenges and hurdles in their career. Can you share some of the challenges you've encountered, how you've overcome them, and your aspirations and goals for your art in the future?As artists, I think we need to experience hurdles in our careers in order to bring out our best work. The harder the struggle, the greater the reward. The ability to turn any negative experience on your journey into a positive is key. As for future goals and aspirations, I look for ways to increase productivity and get a lot more content out. Like a lot of artists, collaborating with charitable organizations, gaining more international representation, and global recognition.