By Ann Williams
The Tivoli, NY-based environmental artist Steven Siegel is no stranger to making thought-provoking statements through his work. His latest creation, titled "Full Basket," is a testament to his commitment to highlighting issues of over-consumption and waste. Commissioned by CEC ArtsLink and the organizers of an arts festival in Bishkek, Kyrgyzstan, Siegel's artwork takes center stage in addressing these critical concerns. In this article, we delve into the artist's background and the inspiration behind "Full Basket."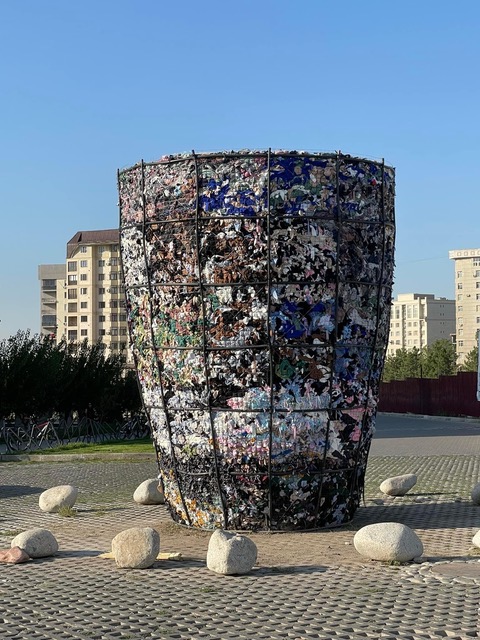 Born in White Plains, New York, in 1953, Steven Siegel is known for his public art commissions and site-specific installations created from recycled materials. After completing his education at Hampshire College in 1976 and obtaining a Masters of Fine Arts from Pratt Institute in Brooklyn, NY in 1978, Siegel embarked on a journey that would significantly shape his artistic trajectory.
Siegel's passion for geology, inspired by John McPhee's "Basin and Range," led him to Scotland in 1983. There, he visited the site where geologist Dr. James Hutton made his discoveries. The impact of this visit resonated with Siegel, eventually influencing his work in the realm of environmental art. His early creations, such as the newspaper sculptures, first unveiled at the Snug Harbor Sculpture Festival on Staten Island, New York, in 1990, were a tribute to this newfound geological perspective. Staten Island's history, as home to Freshkills Park, the world's largest landfill, further ignited his realization that humans were forming a "new geology" through waste. This marked the genesis of his sculptures like "New Geology #1" (1990) and "New Geology #2" (1992).
In the early 2000s, Siegel's "Wonderful Life" series, inspired by the realms of life science and biology, was named after Stephen Jay Gould's book. The series, completed in 2008, delved into the intricate world of evolution theory. His creations were showcased in a traveling exhibition organized by the Turchin Center for Visual Arts in North Carolina in 2009.
One of Siegel's undertakings occurred between 2008 and 2013 when he constructed "Biography." This immense mixed-media wall piece, spanning 156 feet, remains an art work that has never been seen in its entirety, even by the artist himself. Only visualized through Photoshop as a composite of numerous photographs, "Biography" was exhibited in large sections at Marlborough Gallery in 2011 and 2013.
Since 2013, Siegel has been pioneering large collages that combine object making, photography, computer manipulation, and film. "A Puzzle for Alice" (2016), "35 Pieces" (2017), and "An Art Video" (2018) showcased his multidisciplinary approach and earned him prestigious awards, including the Grand Jury Prize for Best Experimental Film at the Red Rocks Film Festival in 2018 for "An Art Video."
Throughout his career, Steven Siegel has been the recipient of various grants and awards. He received the Martin and Doris Rosen Award at the Twelfth Rosen Outdoor Sculpture Competition and Exhibition at Appalachian State University in 1998. Notably, he was awarded the 1999 ArtsLink Collaborative Projects Award for his work on a collaborative sculpture project in Eastern Europe with students from the Moscow Center for Contemporary Art Studies in 2000.
Siegel's exhibitions have graced museums and galleries, including Marlborough Chelsea and Cynthia Reeves Projects. He has also created numerous private commissions, site sculptures, and installations, in addition to public art commissions, both in the USA and internationally. His portfolio boasts projects such as "Suncheon Weave" in South Korea (2016), "Meran Flowers (The Cake)" in Italy (2015), and the more recent "Like a Buoy, Like a Bottle" in Providence, Rhode Island (2019). His reach extends to university projects as well, exemplified by "Tilt 2005" at Kent State University (2005), "E-virus" at Stanford University (2006), and "Fredonia (The Suitcase)" at the State University of New York (SUNY) at Fredonia in 2015.
"Full Basket" is a testament to Steven Siegel's lifelong dedication to creating art that challenges our perceptions and highlights pressing issues. Commissioned by CEC Arts-link and the organizers of an arts festival in Bishkek, Kyrgyzstan, this work focuses on the profound issues of over-consumption and waste, drawing our attention to the consequences of our actions.
In the creation of "Full Basket," Siegel utilized textile waste, seamlessly weaving it into a steel frame. It's a collaborative effort, with paid assistance and volunteers coming together to craft something awe-inspiring. The result is not just a work of art but a statement that is both visually compelling and thought-provoking.
Steven Siegel's "Full Basket" is yet another testament to the artist's ingenuity and commitment to addressing critical environmental issues. With a career that has spanned decades and left an indelible mark on the art world, Siegel continues to push the boundaries of creativity, inspiring us to reflect on our relationship with the environment and the consequences of our actions. His work serves as a powerful reminder that art can be a catalyst for change, encouraging us to reconsider our choices in a world grappling with over-consumption and waste.