Elaine Rosenberg, a resident of North Brunswick, NJ, began art studies at Kean University, and has further developed her skills with instruction at the Visual Arts Center of NJ, the Arts Council of Princeton, other art centers, and retreats. Exhibiting her creations has not only showcased her immense talent but also led her to receive numerous awards. Her artistic journey is a testament to her dedication, passion, and unwavering commitment to the world of mixed media art.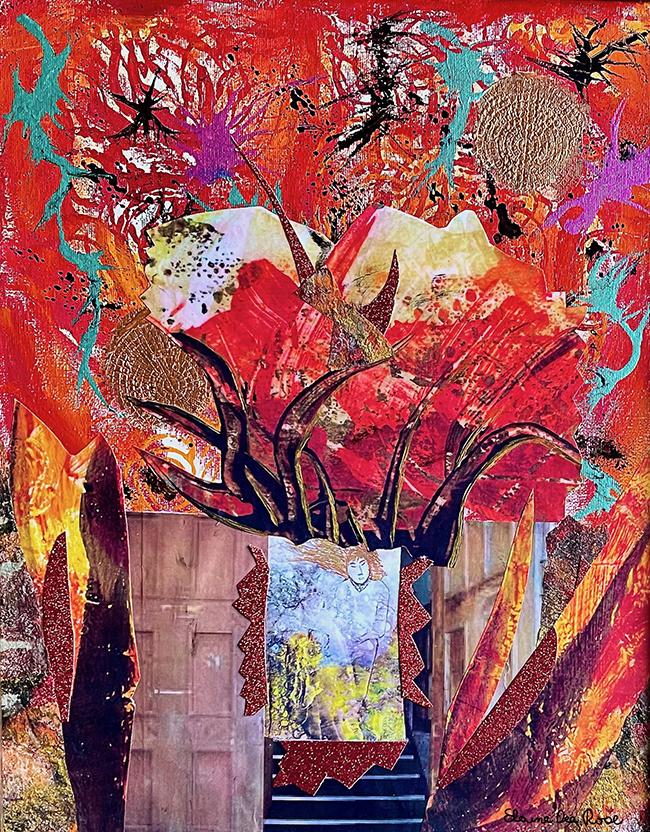 Ms. Rosenberg's artistic vision is a testament to her unique ability to blend the natural world with the remnants of history. Her distinctive mixed media collages incorporate materials from nature, as well as household items and articles found in antique shops and flea markets. When skillfully combined, they create a low-dimensional relief that captivates the observer's imagination. What sets her work apart is her masterful use of various fibrous papers and textiles, which she employs to add depth and texture to her creations.
As an Abstract and Mixed-Media Artist, Elaine Rosenberg has been creating art since her early twenties. Her artistic journey has been a continuous evolution, marked by a hunger for knowledge and a ceaseless drive to refine her craft. She frequently takes art classes at various art centers in New Jersey, including the Center for Contemporary Art in Bedminster, the Visual Arts Center in Summit, the Arts Council of Princeton, and Artworks in Trenton. Additionally, she has participated in numerous art retreats, all of which have enriched her artistic palette.
While Ms. Rosenberg predominantly leans towards abstract art, she has recently embraced the challenge of creating more representational pieces through online courses and books. She understands the importance of artists continually learning new techniques and exploring fresh avenues of expression. This openness to growth and exploration is what keeps her work vibrant and ever-evolving.
Exhibiting her work since 2010, Elaine Rosenberg has graced numerous venues with her mesmerizing creations. This exposure has not only allowed her to share her artwork with a wider audience but has also garnered her a well-deserved collection of awards and accolades. Her art is a testament to the power of creativity and self-expression, reflecting her deep-seated passion for the craft.
One of Elaine Rosenberg's notable works is titled "Girl on Fire." This captivating 20″ x 16″ mixed media piece was inspired by Alicia Keys' hit song, "This Girl is on Fire." In this artwork, a doorway takes center stage, leading into a mysterious studio. The abstract figure positioned at the threshold represents the artist herself, on the cusp of inspiration and creativity. However, it is the fireworks that capture the essence of the thought process, portraying the bursts of ideas and emotions that ignite within the artist's mind.
"Girl on Fire" serves as a powerful example of Rosenberg's ability to encapsulate complex emotions and thoughts within her artwork. Her use of mixed media, including elements from nature and history, creates a multi-layered narrative that invites viewers to contemplate and interpret the piece in their own unique way.
Elaine Rosenberg's art is not only a visual delight but also a profound exploration of the human experience. Her commitment to pushing the boundaries of her craft, her willingness to embrace new techniques, and her dedication to learning and growth are all evident in her work. She is a testament to the fact that art is not static; it is a dynamic and ever-evolving journey of self-expression.
In a world where the boundaries between art forms continue to blur, Elaine Rosenberg stands out as an artist who fearlessly embraces the challenge of pushing her creative limits. Her work reminds us that art is a living, breathing entity, capable of evoking deep emotions, sparking introspection, and inspiring us to view the world through a different lens.
As Elaine Rosenberg continues to create and share her art with the world, there is no doubt that her journey will continue to inspire and captivate art enthusiasts and collectors alike. Her unique blend of nature, history, and abstract expressionism offers a glimpse into a world where creativity knows no bounds, and the artist's spirit is always on fire.